The uptrack of the South-Eastern Freeway at Callington is closed after a truck carrying acid crashed into the barrier of the median strip.
Just after 1am on Tuesday 15 December, patrols and emergency crews were called to the freeway near the Callington exit, after a Double-B semi trailer crashed.
A tree had fallen across the freeway and was blocking half of the road.
CFS Crews worked to free the driver, clear the tree, and contain a diesel spill and a 500ml leakage, of what was identified to be an alkaline Class 8 Corrosive substance, from the cargo.
The spills were quickly contained.
The driver, a 52-year-old man from Victoria, was taken to Murray Bridge Hospital with minor injuries after being trapped in the cabin for a short time.
The freeway is closed for all eastbound traffic between Monarto and Callington with diversions in place Speed restrictions are also in place for all westbound traffic.
It is expected the freeway will not be cleared until later this afternoon and investigations are continuing into the circumstances surrounding the crash.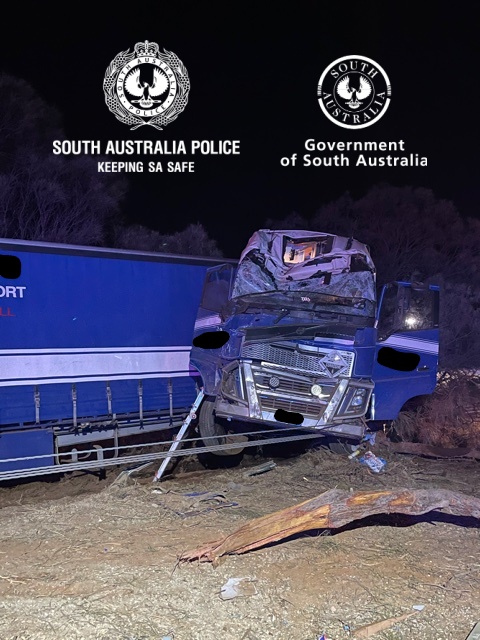 Photo above, SAPOL, photo at top of birds eye view of Callington exit on SE Freeway, Google Earth